A little over a year ago we bought a new used horse trailer with a 4' dressing room. I decided to try my hand at finishing it into a nice little weekender living quaters.
It started as just a shell, but it had electric service wired to it and a rooftop A/C unit. The first thing to do was to get some insulation up. It was a simple process using 1" aluminum faced insulation, aluminum tape, and some simple hand tools:
Next I applied furring strips horizontally to the aluminum trailer framing. My intent of the furring strips was to give the panelling a solid and uniform surface to mount to, as well as an anchor point for my cabinets. I discovered that the panelling I was going to use wasn't rigid enough to lay flatly against the furring strips without bowing, so I screwed sheets of 1/2" pine plywood to the furring strips. This turned out to be a much better idea than the furring strips alone. It worked both as a solid backer for the panelling as well as a great surface to fasten the cabinets to. The driver's side of the dressing room was finished without the use of the furring strips - I just fastened the plywood directly to the aluminum trailer framing.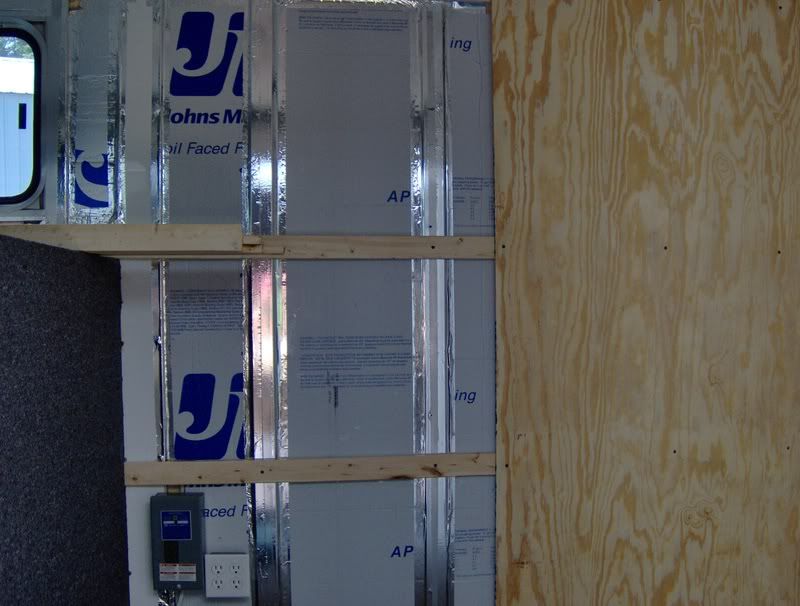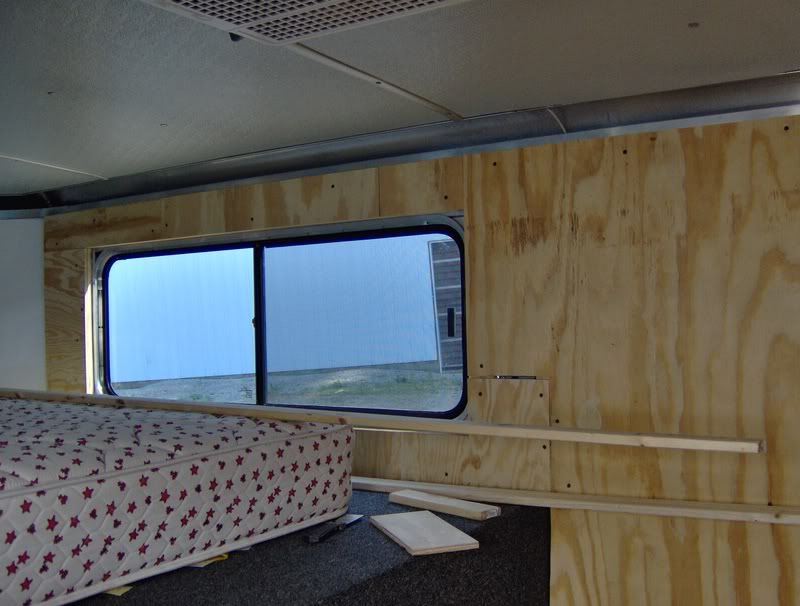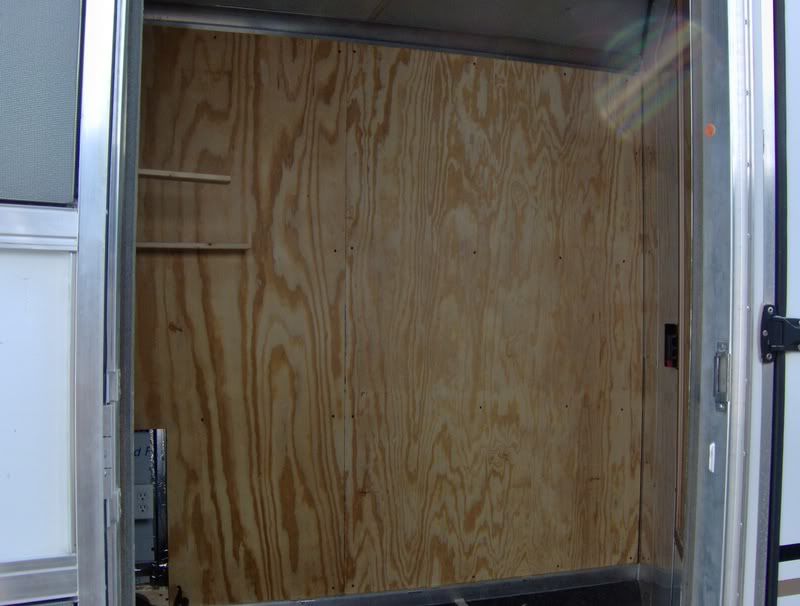 The next step was to apply the decorative panelling. I found a nice product at the local big box hardware store that was panelling with a laminate applied to the face that looked like a worn leather. It's nice because it has a washable surface and it is much better looking than a standard panelling. I applied a panelling adhesive to the plywood, then used a pin nailer to fasten the panelling to the plywood.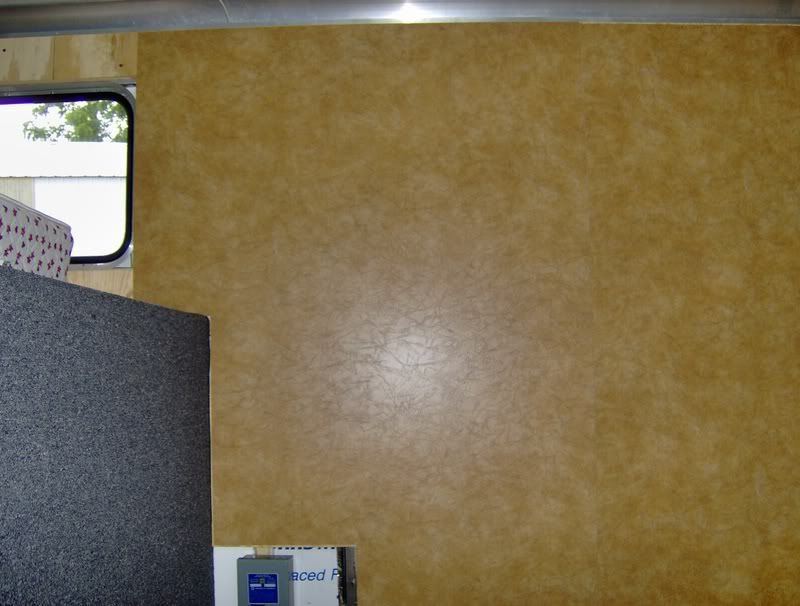 After that came the cabinetry work. I've never built cabinets, so I recruited the help of my good friend Randy who is a cabinet maker. He was a ton of help and he let me use his shop and tools. I think he enjoyed helping me with this project as a way to break his normal routine of basic kitchen jobs. Randy measured everything up and offered his opinion if I needed one. He sketched it up, drew up a materials list, pointed me toward the saw and told me to "get cutting". Kinda daunting, but eveything turned out fine with his help.
The decision to go with hickory was simply an economic one. Randy had just enough left material from a previous project that was extra, so we used it up. Hickory is a beautiful and very hard wood. It will definitely handle the rigors of horse shows and rough camping.
It was Randy's idea to use the extra panelling as the panels for the doors, and it turned out great. We also used it for the counter top and the tops of the cabinets.
The next day I got there bright and early to help with the spraying and installation, and Randy had them all installed: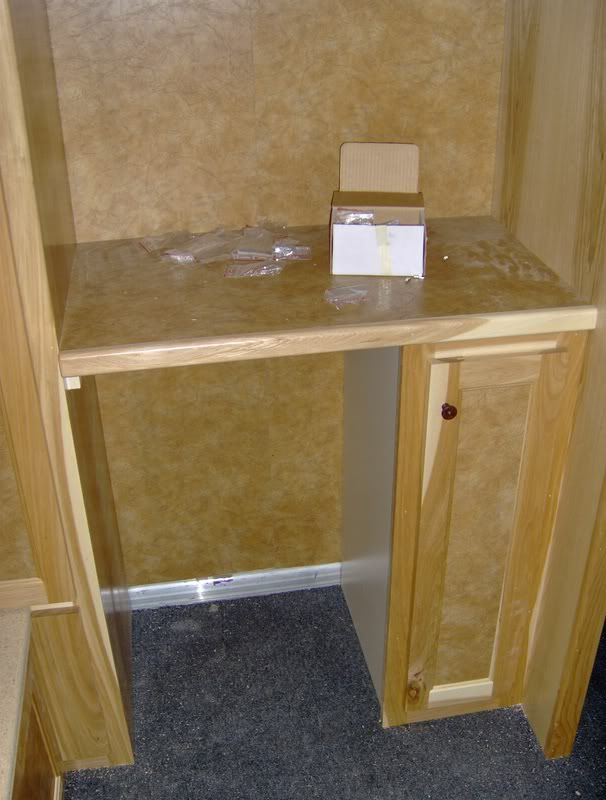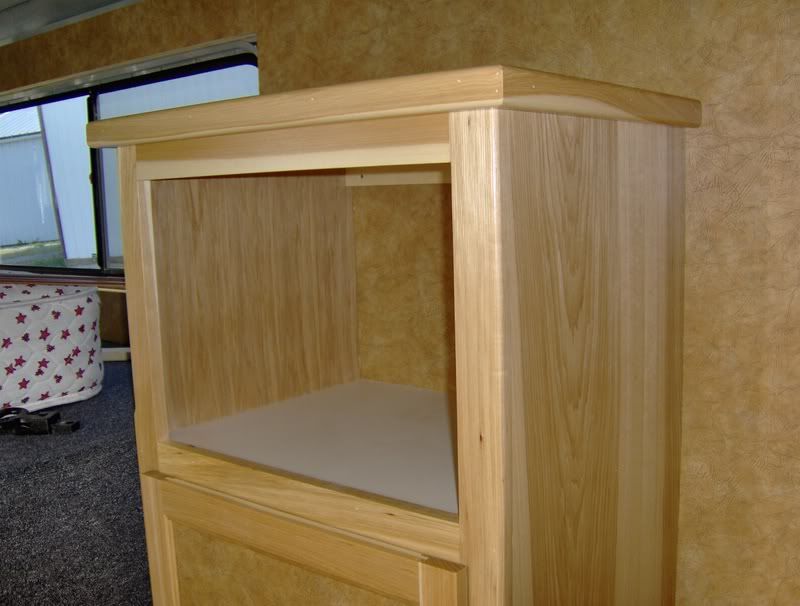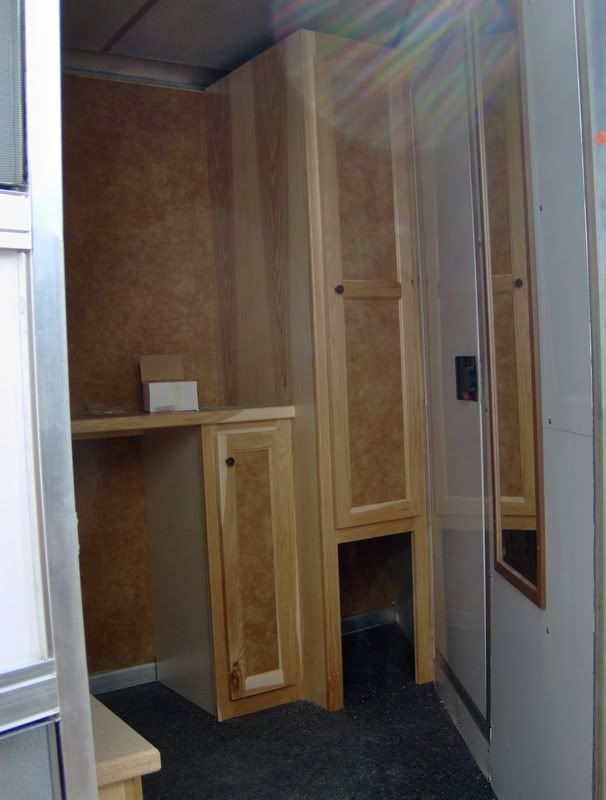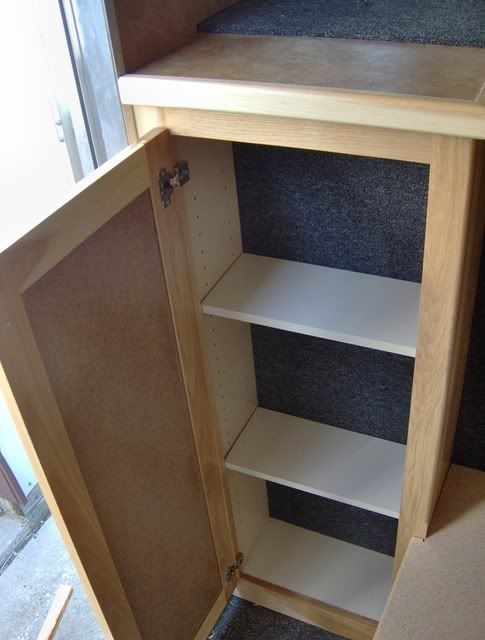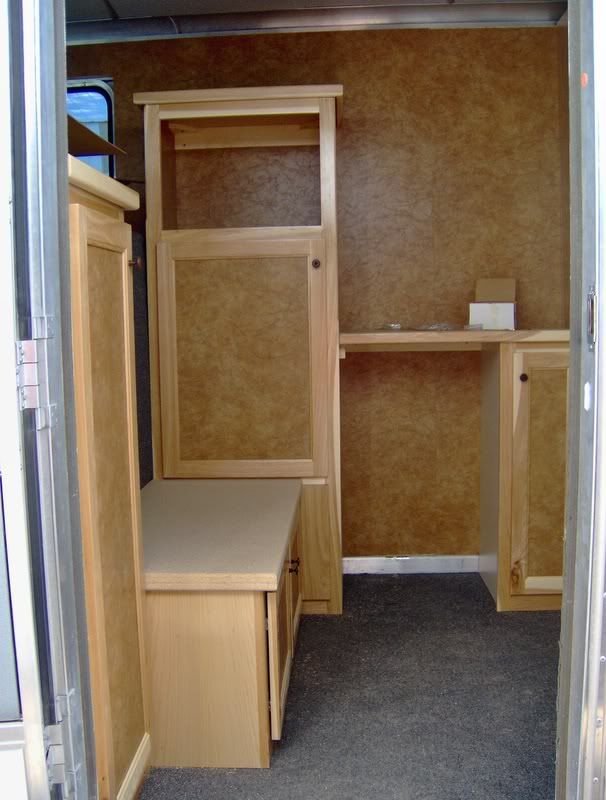 I still have some finishing to do like putting window trim on and laying the laminate floor, but it's perfectly useable now and much more convenient than the folding table and lawn chairs that we used before.