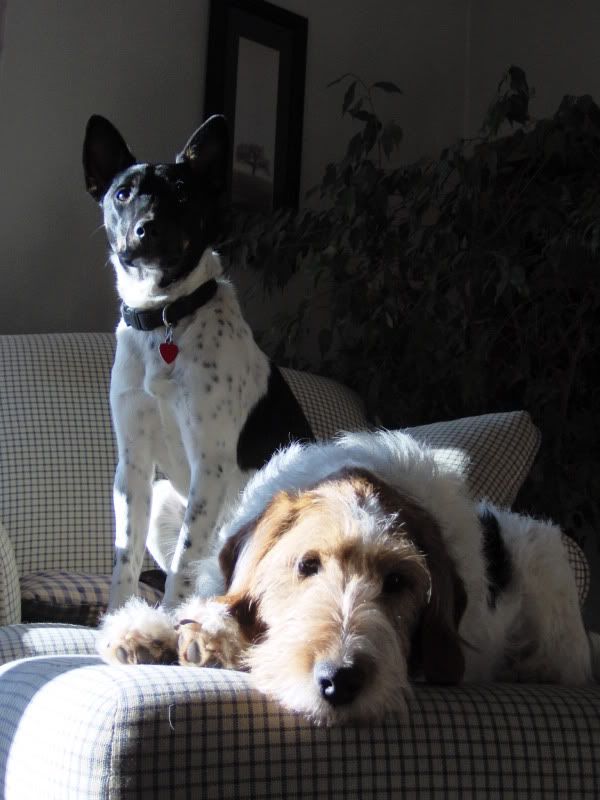 It's been a little over a year since we adopted this little dog from
Furry Bottoms Rescue
.
He was brought home to fill the void left by the death of Freddie, our Cocker Spaniel of twelve years. Freddie was Sara's sidekick, constant companion, and cuddling jellyfish.
Not just any dog could fit into those big furry dog shoes.

We didn't really know what kind of dog we wanted. Sara was drawn to Cockers, but I didn't want her to have a dog that she would compare to the Ol' Freddie all the time. After having Luci for a year, I had really fallen for the stubborn pigheadedness reflected by extreme loyalty that the terrier breeds offered. We found Austin on a website listing him as a wire haired fox terrier. He sure didn't have the makings of a true Foxy, but he was cute and we kept coming back to his ad. We decided to take the drive to Adell to see him. I wasn't sure he was exactly what I wanted, but the decision was ultimately up to Sara. We took Luci along for the ride - she had a voice in the approval process as well.



After introductions with his foster mom, Renae, we were introduced to Tristan. Yes, "Tristan" is what they called him. I wasn't too sure about that name, either. But he was happy, bright-eyed, and as cute as a big-eared who-knows-what-breed dog could be. He had this little rubber ducky that he carried around with him everywhere. It was just a little cheapo squeaky toy, but he carried it so gently that it didn't have a nick in it. Our Ol' Freddie would take toys like that and shred them into little slobbery bits in seconds. He got along well with Luci, and Luci seemed to approve of his big ears. We spent some time with him outside, too. We had just received one of Wisconsin's famous spring snowstorms, and there was plenty of the white stuff on the ground. That little dog would run around and plunge his whole head under the snow. We decided to bring him home and have him be a part of our family.



We re-named him Austin. We all like that name better. After we brought him home, we were looking through his paperwork and made an interesting discovery. Austin, formerly known as Tristan, was originally named Fred. Hmmmm....co-inky-dink?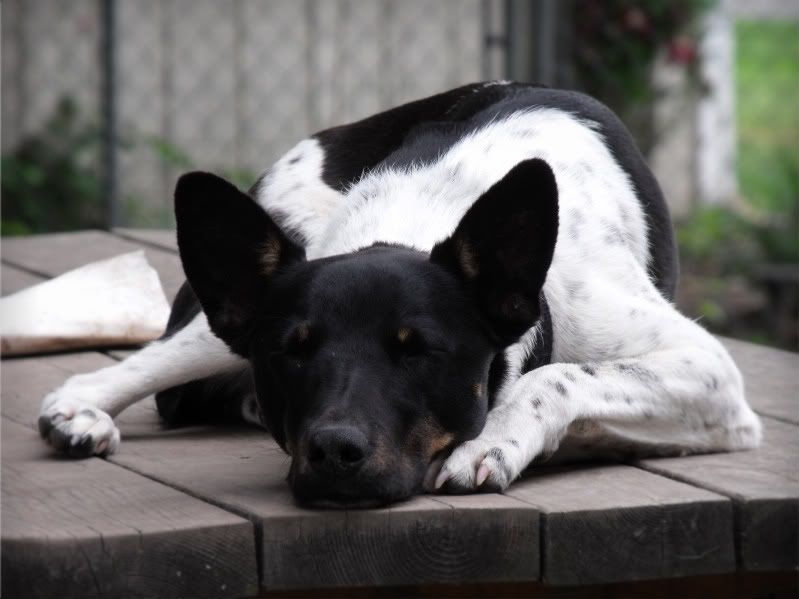 He has really turned out to be an awesome dog. He's about 2-1/2 years old now, and can run like the wind. He loves to have the opportunity to chase the killdeers in the pasture. He can't catch them, but he gives it his best try. I'd guess he can run close to 25 mph. He and Luci are always exploring together, finding gross things to roll in, hunting for kitty treats in the riding arena, looking for hoof trimmings in the manure pile. Good stinky dog stuff. With all of that type of activity, he has gotten used to bath time. He's a great listener, a great cuddler, and just a good lil' dog to have around.



Even if we don't know what he is.