Silly Pony
, over at
Diary of the Overanxious Horse Owner
asked for some information about the layout of our barn. Follow along on my tour. We love our barn and are lucky to have it and are always happy to share it with others.
This is what I see every morning:
This side faces the road: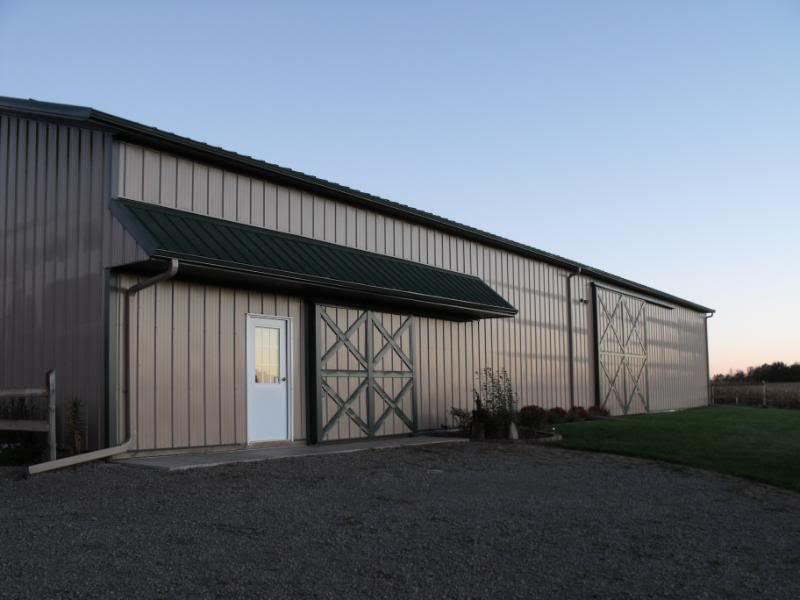 The door:
This was given to us by Harry Klock, from
Stockmans Bar in Harlowton, MT
. Just east of Two Dot on highway 12. You don't meet many fellas as nice:
Let's open it up a bit:
Here's the grain area. It's just inside the door to the left:
Turn completely around, and here's the message board. The bench was a gift from
Chris & John.
He fabbed it out of an old twin bed frame, and Chris did the upholstery. It's got lil' cowboys on it:
This is tacked up on the board. It's from Maddy, the lil' neighbor kid that exchanges stall cleaning for horse rides:
Turning back around, here's the tack room. It's 14' wide and 12' deep. The log siding was donated by a good friend, Rod:
I bought that chair for $7! It's comfy:
"Home is where the barn is":
View from the comfy chair. I could live out here. Coffee and pizza (and beer). Good enough for me:
Back out in the aisle, the next thing is the wash stall. It's 10' wide and 12" deep, just like our stalls:
Then the three stalls:
I just got more log siding to finish the fronts to the right of the stall doors. That should really finish it up:
Then back up the other side of the aisle is where we store a few bales of hay and shavings:
Halters and bridles:
Gate to the indoor arena: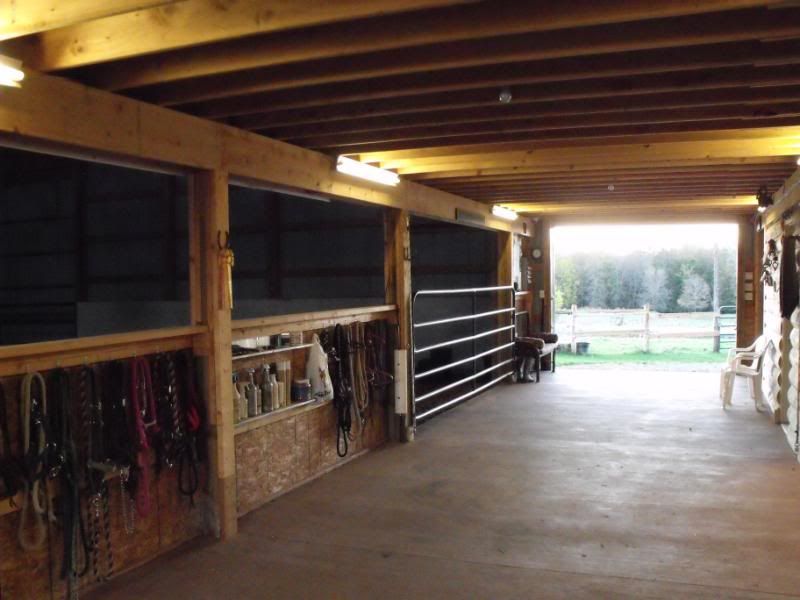 And back where we started:
The aisle is 12' wide and 60' long. Plenty of room to pull through with the tractor or truck, and there is still room to open the doors. The wide aisle was something that many other barn owners regretted not doing. I put the lights up to the sides of the aisle. That was a suggestion from a barn owner just down the road a bit. Lights overhead don't light up the underside of a horse. I would have never thought of that. Each stall has a light and a fan. I mounted the switches and outlets up high, up out of the way, and away from curious horse lips. You can see them on the front of the stalls.
Oh, and above the stalls and the aisle is the hay loft. We had the barn designed with "post and rafter" construction on this end so there wouldn't be trusses up in the loft, which really hurt when you bang your head into when stacking hay. With 1500 square feet of hay loft, we can store a LOT of hay.
Hope you enjoyed the tour! Any questions, just ask.